Do you play video games? This guy does! He wanted an exact replica of the Overseer character from the Dishonored game. After dozens of screen shots and a lot of research, here it is! I made the tabbard, collar, gloves, and all the leather stuff, including the belts, pouch, and boot harnesses. Mike was totally thrilled with the result!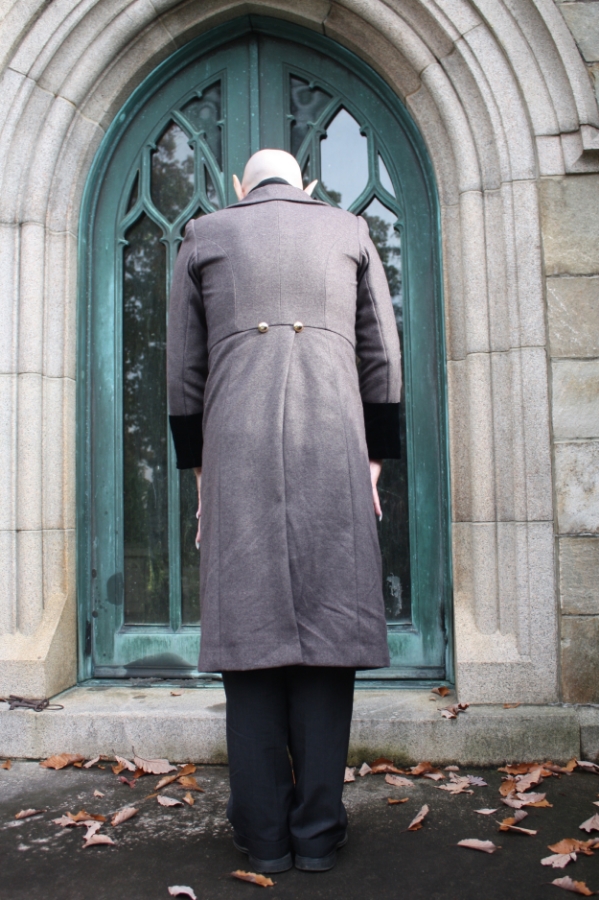 I made this reproduction of the coat Max Schrek wears as Count Orlok in the 1922 film "Nosferatu." The client fell in love with the movie when he was 6, and has wanted to wear the costume for Halloween ever since! He was so happy with the product, he's coming back for more pieces of the outfit next year.
This frock coat was commissioned as a surprise Christmas present by the client's girlfriend. As a guy who likes to dress a little bit edgy and a tad out of the "norm," he was over the moon for his new jacket! He wears it casually, for dress up occasions, and even to Steampunk events.
I made this cheongsam (traditional Chinese style dress) as a commissioned birthday gift. They're only made for smaller women, so I stepped in! Went shopping with the client and picked out all the fabric and notions together. She seemed very happy with the product!
civil war inspired steampunk ensemble
This is actually an outfit I made for myself! There was a Steampunk convention in Gettysburg PA at which I was invited to vend. I threw together this little number, which has elements of both the Civil War Era and Steampunk style. Not only is it comfortable and easy to work in, but it's also not bad to look at.
Bonnet made by Erik Teague: www.erikteaguedesign.com
This guy wanted a 1966 Adam West Batman costume - and here it is! Working from screen shots and vintage posters, we made it just like the one on the TV show - but perfectly fit to his body. I built this one from the ground up: I made absolutely everything except the belt and the patch, even the gloves!
red riding hood Wolf Hunter
Designed by Erik Teague; patterned and built completely by me for the 2012 Steampunk World's Fair. The coat is 100% wool and fully lined, with antique lace on the sleeves and a real fur collar. This little number was the winner of the Most Flaboyant Costume award. The full costume comes with armor for the neck , wolf teeth for jewelry and hat-band, and a large hunting rifle for added flair.
This young woman *literally* wanted to be a fairy princess for her wedding day. She commissioned a custom dress designed by Erik Teague and made completely by me. It is made in three separate parts for maximum comfort and versatility - corset, jacket, and skirt. The corset is made from burgundy corduroy and flocked gold and red brocade, with gold velvet trim. The bolero jacket matches the corset, and has layered burgundy chiffon sleeves. The skirt is burgundy chiffon layered over broadcloth with a coordinated brocade band at the hem, tying everything together for a glamorous and cohesive outfit. She was very happy on her big day!
This is the child of a set of proud new parents who are both members of the US Air Force. They wanted their three month old daughter to have a tiny (but accurate!) flight suit to wear to the DC Air Show. I cut up one of daddy's old suits to make the new little one. It comes complete with functional zipper pockets and correct insignia.
This corset was commissioned by a member of the Charm City Roller Girls in order to show state and team pride. Since it is actually illegal to cut up a state flag, I had to make the checkered fabric and design/ create the appliques myself. Quite a lot of work, but totally worth it. Hooray for the Maryland Roller Derby!
Felicia Beefeater is a magnificent drag performer based in DC. I have been privileged to make several outfits for her competitions and other shows. These photos are from the 2013 and 2014 Miss Addam's Morgan Pageant, where Felicia represents the state of Oregon. (Hence the lumberjill theme of the first several pictures.) She won 3rd place both times!